Description
Recueil paru en 1941 à la Madragore de Santiago du Chili.
Plaquette de Jorge Caceres : "Pasada libre", éditée à Santiago en 1941 et tirée à 500 exemplaires. Jointe à l'exemplaire de Por el camino de la gran piramide polar.[catalogue de la vente, 2003]
See also
1 Work
False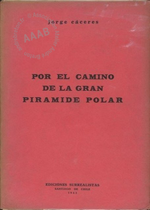 Click to order the image
Recueil de poèmes publié en 1942 aux éditions Surréalistes, à Santiago du Chili.
Une image, une notice descriptive, un lien.