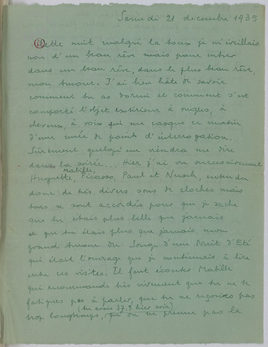 Description
Lettre d'André Breton à Jacqueline Lamba, le 21 décembre 1935.
Transcription
Samedi 21 décembre 1935.
Cette nuit malgré la toux je m'éveillais non d'un beau rêve mais pour entrer dans un beau rêve, dans le plus beau rêve, mon Amour. J'ai bien hâte de savoir comment tu as dormi et comment s'est comporté l'objet extérieur à ongles, à cheveux, à voix qui me casque ce matin d'une nuée de points d'interrogation. Sûrement quelqu'un viendra me dire dans la soirée... Hier j'ai vu successivement Huguette, Mabille, Picasso, Paul et Nusch, entendu donc de très divers sons de cloches mais tous se sont accordés pour que je sache que tu étais plus belle que jamais et que tu étais plus que jamais mon grand Amour de Songe d'une Nuit d'Été qui était l'ouvrage que je continuais à lire entre ces visites. Il faut écouter Mabille qui recommande très vivement que tu ne te fatigues pas à parler, que tu ne reçoives pas très longtemps, (tu avais 37, 8 hier soir), qu'on ne prenne pas la petite pensée dans les bras, etc.
Lise m'a fait porter de belles fleurs roses (à moi aussi !) pour que je puisse vous attendre et vous venir du fond du jardin. Il y a aussi la baleine blanche de l'Alaska qui me parle mystérieusement de vous.
Tu ne crois pas qu'Aube Solange iraient bien?
L'article de M. Noël dans le Figaro n'est pas trop désastreux (je m'attendais à tout de ce côté)
Mon adorée je suis suspendu aux lèvres de qui entre et peut t'avoir vue. Toujours un peu trop fatigué pour écrire longuement. Ne te manque-t-il rien d'essentiel ?
Tout ce que j'avais pensé d'un pacte de toi avec le triomphe s'est vérifié, comme tu vois, de ses yeux de rhum. Je t'ai si bien comprise, tout en t'aimant, tout de suite.
André
Place of origin
Place of destination
See also
2 Works
False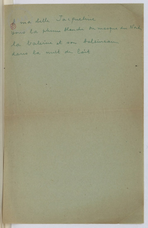 Click to order the image
-

Lettre-poème d'André Breton à Jacquelie Lamba, sans date.
Une image, une notice descriptive, une transcription, une bibliothèque, des liens.
False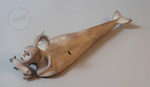 Click to order the image
-

Probably of Yup'ik origin, this mask is from the beginning of the 20th century and represents a whale-person. It was acquired by Breton in 1935.
Three images, a descriptive notice, an exposition, a bibliography.