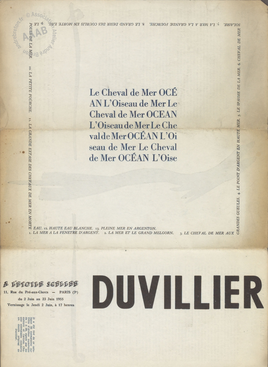 Description
Carton d'invitation pour l'exposition Duvillier organisée à l'Étoile scellée du 2 au 23 juin 1955.
C'est une véritable anthologie en miettes qui nous est présentée ici, avec cette collection de préfaces et de cartons d'invitation qui couvre l'ensemble de l'après-guerre. On peut y lire des reproductions de la plupart des peintres aimés de Breton, ainsi que des textes signés de Péret, de quelques autres, et bien sûr du poète lui-même : à ce titre, on peut considérer que certaines de ces feuilles volantes sont des manières d'éditions originales de nombre de textes réunis plus tard dans Le Surréalisme et la peinture. On notera en particulier celui sur Molinier, plus nourri que les autres. [site Atelier André Breton, 2005]
Duvillier, juin 1955, textes de Breton, Péret, Estienne, respectivement intitulés « Duvillier au tramail », « à gros bouillons », et « la grande nage ». [catalogue de la vente, 2003]
Catalogue
1. La mer à la fenêtre d'argent
2. La mer et le grand Melgorn
3. Le cheval de mer aux grandes gueules
4. Le point d'argent en haute mer
5. Le spasme de la mer
6. Cheval de mer solaire
7. La mer à la grande fourche
8. Le grand désir des courlis en morte eau
9. Le pouls de la mer
10. La petite fourche
11. La grande extase des chevaux de mer en morte eau
12. Haute eau blanche
13. Pleine mer en Argenton
Bibliography
André Breton (Édition publiée sous la direction d'Étienne-Alain Hubert avec la collaboration de Philippe Bernier et Marie-Claire Dumas), Le Surréalisme et la Peinture, Œuvres complètes, tome IV, Écrits sur l'art et autres textes, Bibliothèque de la Pléiade, Paris, Gallimard, 2008, pages 760-761, ill., notes p. 1364.
Exhibition place
See also
1 Work
False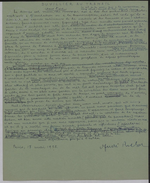 Click to order the image
-
Manuscrit d'un texte d'André Breton sur le travail, non le "tramail", du peintre René Duvillier.