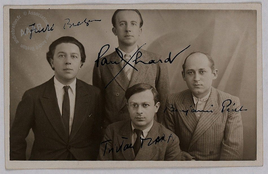 Description
Photographie datée de 1922 tirée sur papier carte postale.
Signée par les quatre au recto : André Breton, Paul Éluard, Benjamin Péret et Tristan Tzara. Annotations manuscrites au dos de diverses mains dont celle d'André Breton.
Exposition
- Jérusalem, Musée d'israël, Dada Surrealism and Beyond in the Israel Museum, 2007.
Bibliography
- (Sarane) Alexandrian, Breton, Paris, Seuil, 1971, rep.s.p.
- Gaëtan Picon, Le surréalisme, 1919-1939, Genève, Éditions d'Art Albert Skira, 1983, rep.p. 20
- Robert D. Valette, Éluard, livre d'identité, Paris, Henri Veyrier, 1983, rep.p. 33
- Gérard de Cortanze, Le monde du surréalisme, Paris, Henri Veyrier, 1991, rep.p. 37
- Michel Murat (cahier dirigé par), Marie-Claire Dumas (avec le concours de), Jean-Michel Goutier (iconographie réunie par), André Breton, Paris, Éditions de l'Herne, 1998, rep.n° 3
- Kamien-Kazhdan, Adina, Surrealism and Beyond in the Israel Museum, Jerusalem, 2007