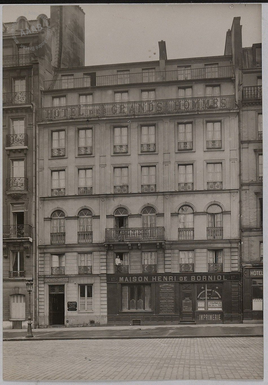 Description
The photograph depicts the facade of the seven-story "Hotel of Great Men" (Hôtel des grands hommes).
The name of the hotel appears on the railing of the sixth-floor balcony. A man appears gazing out of a second-floor window above an inset printing business, the "House of Henri Borniol".
Handwritten on the back of the photograph by Andre Breton: "below the words HOTEL OF are the two windows of the room I occupied around 1918." The photograph is from the same set that was used by André Breton to illustrate Nadja.
"My point of departure will be the Hôtel des Grands Hommes, Place du Pantheon, where I lived around 1918..." -Nadja
Bibliography
- Paris, Musée national d'art moderne/ Centre Georges Pompidou, La Subversion des images: Surréalisme, photographie, film, 2009, rep.p. 132
| | |
| --- | --- |
| Creation date | vers 1928 |
| Date of publication | 1928 |
| Languages | French |
| Physical description | 16,5 x 11 ,5 cm (6 1/2 x 4 1/2 in.) |
| Museum | Musée national d'Art moderne, Centre Pompidou, Paris : AM 2003-276 |
| Copyright | © ADAGP, Paris, 2012. |
| Breton Auction, 2003 | Lot 5270 |
| Keywords | Nadja, Photography |
| Categories | 1924-1930 |
| Set | [Exhibitions] 2009-2010, Subversion of the images, Beaubourg |
| Exhibition | La Subversion des images | Photographie surréaliste |
| Permanent link | https://www.andrebreton.fr/en/work/56600100880520 |