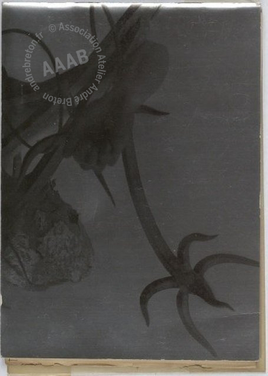 L'Âge du cinéma, 4-5
Revue d'art cinématographique
Author
Author Jacques Brunius
Description
Numéro double de cette revue paru en août 1951 à Paris.
Numéro 4-5 en tirage de tête de la revue L'Âge du cinéma limité à 150 exemplaires marqués H.C. contenant une lithographie originale signée de Wifredo Lam, des filmomanies symptomatiques et les signatures autographes de Bédouin, Benayoun, Breton, Daifas, Goldfayn, Heisler, Kyrou, Legrand, Man Ray, Mitrani, Péret, Roger, Schuster, Toyen, Valorbe et Zimbaca.
- Lettre autographe signée de 17 pages de Jacques Brunius à André Breton, relative à Tristan et Iseult et à leur différent concernant le film d'Abel Gance Napoléon.
« Mais je ne vois pas sur quoi repose le certificat de chasteté de Tristan et Iseult. Y a-t-il quelque part un règlement mythologique qui interdit à un héros lunaire et une héroïne solaire de s'unir ? Il n'y a même à ma connaissance aucun empêchement à ce qu'ils se rencontrent dans les cieux et sur terre. Sinon il n'y aurait jamais d'éclipse.
« Quant à Napoléon, ce film suffisait à taxer d'imposture opportuniste le vague pacifiste de J'accuse. C'était la pure et simple exaltation de la grandeur militaire en la personne du petit caporal. Je suis tout disposé à croire que la polyvision permettra de faire des films surréalistes. » [catalogue de la vente, 2003]
See also
2 Works
False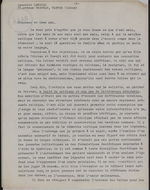 Click to order the image
Lettre de Lancelot Lengyel non datée.
Six images, une notice descriptive, une lettre associée.
False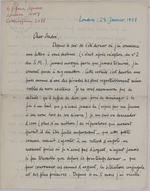 Click to order the image
-

Lettre de Jacques Brunius à André Breton datée du 29 janvier 1958, qui accompagne une lettre de Lancelot Lengyel.
18 images, une notice descriptive, une revue et une lettre associées.