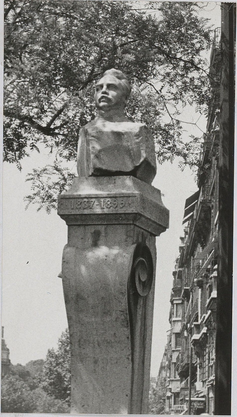 Description
Une photographie d'André Bouin de 1962, représentant le buste de Becque prévue pour illustrer une réédition de Nadja.
L'illustration choisie sera de la même série, ou d'une photo prise un autre jour.
« Même si cela ne fait pas honneur à mon discernement, j'avoue qu'il ne me paraissait pas exorbitant, entre autres choses, qu'il arrivât à Nadja de me communiquer un paier signé "Henri Becque" dans lequel celui-ci donnait des conseils. [...] Mais je comprenais fort bien, puisqu'elle était attirée par le buste de Becque, place Villiers, et qu'elle aimait l'expression de son visage, qu'elle tînt et qu'elle parvînt, sur certains sujets, à avoir son avis. » (André Breton, Nadja, Pléiade, vol. I, p.741)
See also
1 Work
False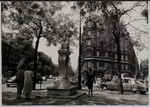 Click to order the image
-
Une photographie du buste de Becque.
Une image, une description à compléter.