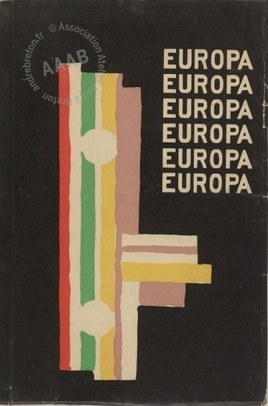 Europa Almanach
Malerei Literatur Musik Architektur Plastik Bühne Film Mode außerdem nicht unwichtige Nebenbemerkungen
Author
Person cited Georges BatailleBook and lyrics by Lyonel FeiningerEdited by Carl Einstein, Paul WestheimIllustrated by Constantin Brancusi, Georges Braque, Giorgio De Chirico, André Derain, Otto Dix, George Grosz, Ernest Ludwig Kirchner, Paul Klee, Oskar Kokoschka, Lissitzky, Jean Cocteau, Pablo PicassoCover design by Fernand LégerText by Louis Aragon, Jacques Baron, Berthold Brecht, Blaise Cendrars, Joseph Delteil, André Gide, Le Corbusier, Vladimir Maïakovski, Max Morise, Oskar Schlemmer, Amédée Ozenfant, Erik Satie, Sonia Terk-Delaunay, Roger Vitrac, Carl Einstein, Henri Matisse, Jean Paulhan, Ezra Pound, Benjamin Péret, Pierre Reverdy, Gino Severini, Philippe Soupault
Description
L'Europa-Almanach, conçu par le critique d'art Carl Einstein et son éditeur Paul Westheim, est un almanach publié par les éditions Gustav Kiepenheuer à Potsdam en 1925.
Cet almanach regroupe un florilège de nombreuses contributions visuelles, plastiques et littéraires de différentes importantes avant-gardes artistiques originaires de nombreuses nations européennes, dans le but de faire un état des lieux des meilleures productions des avant-gardes à l'échelle européenne. 
Il présente un panel divers d'une centaine oeuvres d'art couvrant les domaines des arts plastiques, de l'architecture, de la mode, de la danse, du cinéma et de la musique, associés à 150 contributions littéraires d'avants-gardes européennes, écrites en de nombreuses langues traduites en allemand ou partiellement conservées dans leur langue d'origine pour les textes en allemand et en français.
 La diversité des types de contributions place l'Europa-Almanach dans la lignée des almanachs d'avant-gardes comme celui du Blaue Reiter, édité par Franz Marc et Vassili Kandinsky en 1912 à Munich. Il pourrait par ailleurs selon l'einsteiniste Liliane Meffre, par son polymorphisme, son polysémisme, et sa mise en rapport audacieuse, avoir servi de reférence implicite à la revue Documents dirigée par Georges Bataille de 1929 à 1931.
Parmis des textes de nationalités de toute l'Europe traduits en allemand, sont publiées en version originale des contributions de nombreux signataires du Premier Manifeste du Surréalisme comme Louis Aragon, Jacques Baron, Joseph Delteil, Max Morise, Benjamin Péret, Philippe Soupault ou Roger Vitrac, ainsi que certaines de Jean Cocteau.
Par ce traitement particulier, Carl Einstein et Paul Westein marquent leur proximité du groupe surréaliste parisien, et manifestent leur francophilie et la primordialité de la relation franco-allemande, en outre de la grandeur et du prestige de leur réseau et du plurilinguisme de l'union européenne.
La pluralité des contenus et des avant-gardes de l'Almanach marquent l'ouverture d'esprit des deux concepteurs, qui ont notamment contribué dès 1915 à la prise en considération des oeuvres d'arts premiers avec l'ouvrage Negerplastik puis Afrikanische Plastik en 1921, importants dans le développement du primitivisme au sein des avant-gardes européennes. [Noémie Zinck, site André Breton, 2019]
Almanach illustré de reproductions de  Chirico, Dix, Klee, Grosz, etc. [catalogue de la vente, 2003]
Bibliography
Klaus H. Kiefer, « Das soll Europa sein ? » Jean Cocteau dans l'Europa Almanach de Carl Einstein et Paul Westheim », Recherches germaniques, 47 | 2017, 53-73.
Liliane Meffre, « Europa : une manifestation des avant-gardes européennes ». In : Sacha Bru et al. : Europa ! Europa ? The Avant-Garde, Modernism and the Fate of a Continent. Berlin 2009, p. 153-160.
Liliane Meffre, Carl Einstein 1885-1940. Itinéraires d'une pensée moderne, Paris, 2002.
| | |
| --- | --- |
| Bibliographical material | Potsdam, Gustav Kiepenheuer, 1925. In-8°. Couverture illustrée, broché. |
| Date of publication | 1925 |
| Publication | first publication |
| Languages | French, German |
| Size | 23,00 cm |
| Illustrations | une centaine de reproductions d'œuvres, croquis, photographies, en noir et blanc, couverture illustrée en couleurs |
| Number of pages | 282 |
| Publisher | Gustav Kiepenheuer Verlag, Potsdam |
| Reference | 8356000 |
| Breton Auction, 2003 | Lot 415 |
| Keywords | almanachs français -- périodiques, Architecture, Film, Cubism, Exhibitions, Music, Painting, Poetry, Fiction, Sculpture, surrealism, Surrealism, surréalisme (littérature), Literary Theory, Theater |
| Categories | Catalogues, books on art, artist's books, Books, Catalogs, Journals |
| Permanent link | https://www.andrebreton.fr/en/work/56600100473831 |