L'affaire de la projection de l'Âge d'or
Author
Authors Maxime Alexandre, Louis Aragon, Georges Malkine, Man Ray, Georges Sadoul, Pierre Unik, Albert Valentin, André Breton, René Char, René Crevel, Salvador Dalí, Paul Éluard, Benjamin Péret, Yves Tanguy, Tristan TzaraPeople cited Luis Buñuel, Le Provost de Launay, Man Ray, Simon Arbellat, Robert Caby, Adolf Hitler, Léon Moussinac, dit aussi Jean Peyralbe, Salvador Dalí, Max Ernst, Joan Miró, Gaëtan Sanvoisin, Yves Tanguy
Description
L'Âge d'or, le film de Luis Buñuel et Salvador Dali, suscite à la fin de 1930 l'un des plus retentissants scandales du surréalisme; l'intervention musclée de l'extrême droite, à la fin d'une projection, aboutit au retrait du film, qui sera donné à Londres début janvier, comme l'atteste le carton d'invitation qui figure dans ce dossier. Commentant, narrant et dénonçant cette histoire qu'ils raccordent à l'antisémitisme et associent - déjà ! - à la « police de Hitler » (dont les Sections spéciales commencent à défrayer la chronique, en cette fin de 1930), un tract volumineux vient prêter son renfort, pièces à l'appui, à un film dont les réactions des critiques rappellent que s'il restera dans les annales du cinéma, c'est aussi pour sa qualité.
Tract vraisemblablement rédigé par Louis Aragon, Paul Éluard faisant suite au saccage du Studio 1928 et à l'interdiction du film de Luis Buñuel et signé par 16 membres du groupe.
Images 1, 2, 3 et 4 :
Quatre pages d'un double feuillet avec le texte du tract et des extraits de la presse.
Images 5 et 6 :
Deux pages d'un feuillet inséré avec les photographies du saccage de l'exposition du Studio 28 par des manifestants hostiles au film.
Images 7 et 8 :
- Le carton d'invitation de Nancy Cunard pour la projection du film L'Âge d'or à Londres.
See also
2 Works
False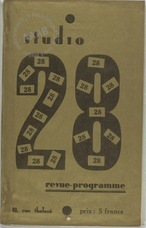 Click to order the image
-
Revue programme du cinéma Studio 28 composée de textes du groupe surréaliste sur le film de Luis Bunuel, L'Âge d'Or.
False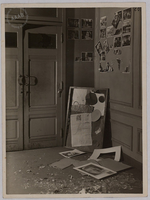 Click to order the image
Photographie prise au Studio 28 en 1930.
Deux images, une notice descriptive à compléter.