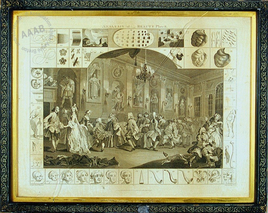 Description
Eau-forte baroque imprimée en 1798, réalisée d'après une gravure d'Hogarth qui a servi à illustrer son ouvrage l'Analyse de la beauté en 1753.
Eau-forte, gravée par Thomas Cook d'après Hogarth, titrée en haut de page Analysis of beauty, plate II.
cf R. Paulsen 196 et J. Burke et C. Caldwell 234 pour la planche originale - Imprimée en 1798.
William Hogarth (1667-1764) est un peintre et graveur anglais. Contestataire, politique, il combat la hiérarchie des genres en peinture et en littérature. Admiré de son vivant des gens de Lettres comme Swift ou Fielding, Hogarth est un artiste majeur du XVIIIe siècle anglais.
« Les autres tableaux se regardent », écrit Charles Lamb ; « ses estampes se lisent ». Opinion partagée par Baudelaire un siècle plus tard...
En 1753, il écrit l'Analyse de la beauté, illustrée de deux planches didactiques - traité esthétique où il détrône le formalisme classique au profit de la liberté baroque.
Il y développe la théorie de la ligne serpentine, symbole suprême de la beauté baroque, illustrée dans cette gravure Analysis of beauty, plate II par la fig. 71 (ellipse) au coin supérieur gauche et le jeune couple au premier plan, idéal de grâce.
L'aspect complexe et très énigmatique de cette composition, dont la clé se trouve dans les écrits d'Hogarth, justifie sa place dans la collection André Breton.
See also