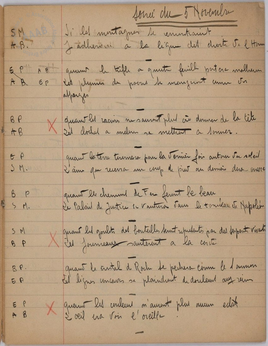 Description
Handwritten notebook by several authors, dated from November 5th to December 20th [1928].
In November and December of 1933 the surrealists, at the height of activity, dedicate themselves to the games they invented. The issue of Variétés published in Brussels in 1928 explains in part how one of the games should take place: "You sit around a table. Each of you writes without looking at his seatmate a hypothetical sentence beginning with IF or WHEN, and a proposition in the conditional, or in the future tense unrelated to the former sentence. Next, the players adjust the results two by two." [Atelier André Breton site, 2005]
Handwritten notebook, from November 5th to December 20th [1928] - A 15 page school notebook in-8° titled by Breton on the cover: "If When Recapitulation" handwritten with black ink mainly by Breton.
Sessions of November 5th, 7th and of December 20th, dated by Desnos and Breton. All questions begin with "If...?" or "When...?".
All participants are named by their monogram, Simone Muzard, André Breton, Benjamin Péret, Pierre Unik, Louis Aragon, Robert Desnos, etc.
"P. U. The angel of bizarre will invent the art of billiards "A. B. When men will contend acorns with oaks trees "L. A. Officers will be recruited among prostitutes "S. M. If octopuses wore wristbands "B. P. Boats would be dragged by flies…" (play on words: a "bateau-mouche" is a tourist river boat on the Seine in Paris) The red crosses indicate the passages to be published in the June 1929 issue of the review Variétés dedicated to Surrealism. [Auction catalogue, 2003, André Breton website, 2014]
Bibliography
- "Le Surréalisme en 1929", Variétés, Bruxelles, juin 1929.
See also
1 Work
False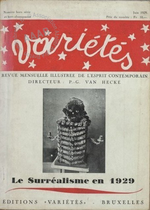 Click to order the image
-
The monthly review Variétés published in Brussels in June 1929 dedicates this special issue to Surrealism.