Non identifiée
Cette exposition, cette vente n'a pas été identifiée. Sans lieu ni date, elle est cependant reliée à des œuvres et à des documents de l'atelier d'André Breton.
Place of origin
1 Work
False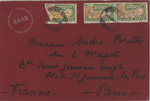 Click to order the image
Carton d'ivitation à une exposition Leonora Carrington, daté du 24 février 1950.
Deux images, une notice descriptive, un lien.