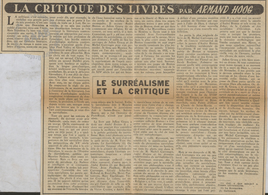 Le surréalisme et la critique
Carrefour, non daté [1950]
Author
Author Armand Hoog
Description
Article d'Armand Hoog publié dans Carrefour en 1950.
Article de presse d'Armand Hoog, pour sa chronique de Carrefour intitulée « La Critique des Livres », paru au moment de la publication d'André Breton et les données fondamentales du surréalisme, de Michel Carrouges.
André Breton a inséré cette coupure de presse dans le livre de Carrouges. [site André Breton, 2019]
See also
1 Work
False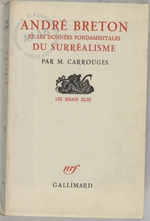 Click to order the image
Essai biographique de Michel Carrouges publié chez Gallimard à Paris en 1950.
Quatre images, une notice descriptive, un lien.