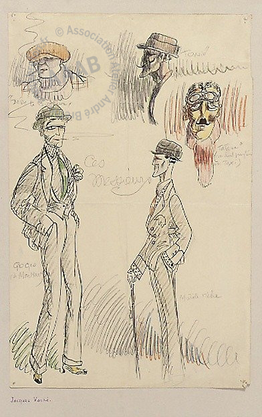 Description
Dessin de 1917-1918 de Jacques Vaché qui fit la connaissance de Breton en 1916.
Marqué, de la main d'André Breton, sur le support en papier : « Jacques Vaché. » Étiquette au dos de l'encadrement : « Compagnie générale 1881 Paris exhibition : Elisa Breton author : Dessin J. Vachet (sic) title : Ces messieurs »
Breton fit la connaissance de Jacques Vaché à Nantes, en février 1916. Ce fut une rencontre brève mais décisive, qui a marqué pour toujours la pensée d'André Breton :
« Vaché (Jacques) 1805-1919 - Un surmoi de pure simulation, véritable dentelle du genre, n'est plus retenu par Vaché que comme parure : une extraordinaire lucidité confère à ses rapport avec le soi un tour insolite, volontiers macabre, des plus inquiétants. C'est de ces rapports que jaillit à jet continu l'HUMOUR NOIR, l'UMOUR (sans h), qui va prendre avec lui un caractère initiatique et dogmatique. » André Breton (Paris, Galerie des Beaux-Arts, Exposition internationale du surréalisme, Dictionnaire abrégé du surréalisme, 1938, p. 29)
« Nous fûmes ces gais terroristes, sentimentaux à peine plus qu'il était de saison, des garnements qui promettent. Tout ou rien nous sourit. L'avenir est une belle feuille nervée qui prend les colorants et montre de remarquables lacunes. Il ne tient qu'à nous de puiser à pleines mains dans les chevelures échouées. Le repas futur est servi sur une nappe de pétrole. L'ingénieur des usines et le fermier général ont vieilli. »
« Nos pays chauds, ce sont les cœurs. Nous avons mené la vie tambour battant. - Mon cher André, les épures vous laissent froid. J'ai fait venir ce rhum de la Jamaïque. L'élevage, voyez-vous, raidit l'herbe des prés ; d'un autre côté je compte sur le sommeil pour tondre mes troupeaux. L'alouette du matin, c'est encore une de vos paraboles. » André Breton (Poésie & autre, Textes choisis et présentés selon l'ordre chronologique par Gérard Legrand, Paris, Gallimard, 1960, p. 18)
Expositions
Paris, Musée national d'art moderne/Centre Georges Pompidou, André Breton, la beauté convulsive, 1991, rep. p. 92, p. 497
See also
1 Work
False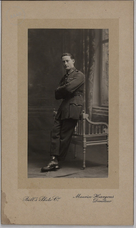 Click to order the image
Portrait photographique de Jacques Vaché vers 1916.
Quatre images, une notice descriptive à compléter, une exposition, une bibliographie.
1 Comment
Vous trouverez à l'adresse suivante le site que j'ai consacré à Jacques Vaché : http://www.everyoneweb.fr/jackdenantes/ Bonne visite !
13/10/2009