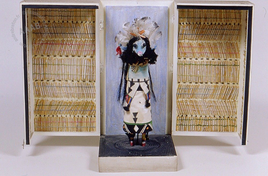 Description
Used as a display case for a Zuni doll, this box was made by Mimi Parent at André Breton's request.
"The exterior of the box is covered with sand painting. The inside is lined with wooden sticks woven together with coloured thread and interspersed with coloured beads." (Lettre de Mimi Parent adressée à la Galerie 1900-2000, septembre 2002)
Bibliography
- Lettre de Mimi Parent adressée à la galerie 1900-2000, septembre 2002
Languages
French
Physical description
Fermé : 41,7 x 20,8 x 20 cm (Closed : 16 3/8 x 8 1/8 x 7 7/8 in.)
Ouverte : 60 x 20 x 41,7 cm (Open : 23 5/8 x 7 7/8 x 16 1/2 in.)
- Présentoir, poupée Zuni, bois, paille, sable, fils, perles, huile.
From / Provenance
Commande d'André Breton, sd.
Breton Auction, 2003
Lot 4394
Keywords
Indigenous peoples of the Americas, Assemblage or collage, organic items
Categories
Native Americans, Sculpture
Permanent link
https://www.andrebreton.fr/en/work/56600100840810
See also
1 Work
False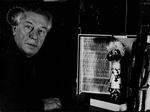 Click to order the image
Photographie prise par Pierre Argillet dans l'atelier de la rue Fontaine vers 1960.
Une image, une notice descriptive à compléter.