Description
Huile sur toile, vers 1907. Achetée par André Breton en 1937.
Dimensions sans cadre 31 x 39,5 cm, avec cadre 47 x 55 cm.
© cliché DR Philippe Migeat, centre Pompidou, Mnam.
See also
1 Work
False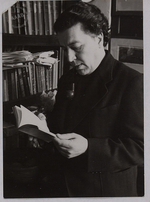 Click to order the image
-
Quatre portraits photographiques d'André Breton rue Fontaine réalisés par Lo Kay vers 1939.
Quatre images, une notice descriptive à compléter.