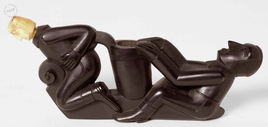 Pipe en argilite haida
Colombie Britannique
Description
Pipe sculptée de deux personnages assis et accroupi dont l'un a une tête taillée dans de l'ivoire (argilite, XIXe siècle). Statuette placée le long du mur de l'atelier.
Pipe en argillite, XIXe siècle.
- art commercial, Haida Gwaii (Iles de la Reine-Charlotte), Colombie britannique
À partir des années 1820, se développe chez les Haida (Haida Gwaii) un art original : celui de la sculpture en argillite. Utilisée pour la fabrication de petits objets (amulettes et labrets), avant d'être systématiquement employée dans la création d'objets à usage commercial, l'argillite (schiste carbonifère) est extraite d'une carrière située près du village de Skidegate. Née au moment de la traite des fourrures, la sculpture sur argillite fut d'abord appliquée à la production de pipes à tabac. Ont été aussi sculptées une grande variété de pipes à usage non fonctionnel, telle cette pipe de la collection d'André Breton. Si dans un permier temps, sont représentés des personnages de la mythologie sur les pipes sculptées sur une plaque très mince d'argillite, apparait vers 1840 un style de pipes dont le décor est inspiré par les activités propres aux Blancs : Elles sont souvent décorées de motifs à base de volutes, de feuilles ou de fleurs. La période dite « blanche » (1830-1860) voit apparaitre des plats et des assiettes en argillite à motifs décoratifs s'inspirant de la porcelaine européenne. À la fin des années 1860, les sculpteurs haida commencent à produire des mâts miniaturisés, répliques conformes des mâts funéraires ou des poteaux de maison.
Cette pipe fait partie de la catégorie que l'on appelle les ship pipes : elle est composée de deux personnages aux traits et aux vêtements de type européen (pantalons, bottes) sculptés de part et d'autre du fourneau de la pipe qui pourrait figurer la cheminée du bateau. le premier personnage dont la tête est sculptée dans un morceau d'ivoire est agenouillé à la proue, les coudes repliés, tandis que le second est assis à la poupe. S'élabore une représentation du visage du Blanc sculpté dans l'ivoire qui va devenir classique : visage allongé et mince, nez pointu et lèvres pincées. [Marie Mauzé, site André Breton, 2014]
Expositions
- Présentation des collections permanentes : Paris, Musée national d'art moderne, depuis 2003.
- Big Bang [Présentation des collections permanentes] : Paris (France), Musée national d'art moderne, 02 mai 2005-28 février 2006.
- Présentation des collections permanentes (collections modernes) : Paris (France), Musée national d'art moderne, 01 février 2010-01 février 2012.
Bibliography
- Peter L. Macnair & Alan H. Hoover, The Magic Leaves. A History of Haida Argillite Carving. Victoria, Ministry of  Provincial Secretary and Governement Services, 1984.
Creation date
XIXe siècle
Languages
French
Physical description
Pierre dure et ivoire.
6,5 x 15 x 2,7 cm
From / Provenance
sl
Place of origin
Museum

Musée national d'Art moderne, Centre Pompidou, Paris : AM 2003-3(47)

Method of acquisition and collection
Musée national d'Art moderne, Centre Pompidou, dation André Breton, 2003
Copyright
cliché G. Meguerditchian/Centre Pompidou, MNAM-CCI
Reference
Dation_47
Keywords
Wall, Ceremonial Art, Sculpture
Categories
Native Americans, British Columbia
Permanent link
https://www.andrebreton.fr/en/work/56600100515430
Place of origin