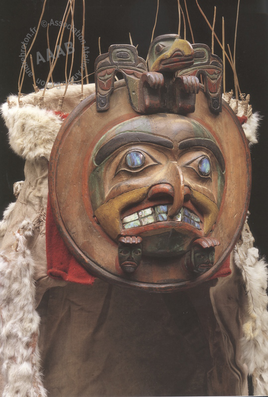 Coiffe cérémonielle kwakwaka'wakw
Colombie Britannique
Description
Parure cérémonielle d'Amérique du Nord placée sur le bureau, face à André Breton.
La coiffure kwakwaka'wakw est constituée d'une plaque frontale en bois de forme arrondie figurant un faucon aux traits humains. Elle est surmontée d'un corbeau aux ailes déployées et ornée d'une couronne de barbillons d'otarie et d'une traîne d'hermine. Les yeux et la bouche sont décorés d'incrustations en haliotide. Sont figurés sur les coiffures de ce type soit un personnage mythologique, soit le blason ou un des blasons du propriétaire de l'objet.
La coiffure (yaxwiwe en kwakwala) est portée par des chefs ou des nobles de haut rang lors de cérémonies dites Tlassila connues sous le nom « Peace dance » ou « Feather dance ».
Dans l'atelier de la rue Fontaine, la coiffure occupait sur la table de travail une place de choix. Elle faisait face à Breton dans la proximité qu'on peut imaginer tantôt silencieuse, tantôt animée de deux partenaires d'un dialogue apaisé. À cette « présence » intime, étaient associées deux autres « présences » fortes qui présidaient et encadraient le dispositif de protection, à savoir le malangan uli (Nouvelle Irlande) représentant un personnage hermaphrodite – avec des seins et un pénis en érection – et une effigie tolai (aux bras levés, paumes ouvertes), figure puissamment masculine, représentant un esprit dans des rituels d'initiation masculine chez les Tolai de Nouvelle-Bretagne. [Marie Mauzé, site André Breton, 2015]
Exposition
- Canada, Vancouver, Vancouver Art Gallery, The Colour of my Dreams: The Surrealist Revolution in Art, 28 mai - 2 octobre 2011.
Bibliography
- Marie Mauzé, « Quand une coiffure cérémonielle kwakwaka'wakw retrouve sa communauté d'origine : histoire d'une restitution », Art Tribal 5 (printemps-été 2004), p. 112-117.
- Marie Mauzé, « Trois destinées, un destin », Gradhiva, n° 7, 2008, p. 100-119. URL : http://gradhiva.revues.org/1084
- Dawn Ades (dir.), Marie Mauzé, "A Kwakwaka'wakw Headdress in André Breton's Collection" in The Colour of my Dreams: The Surrealist Revolution in Art, 2011, Vancouver, Vancouver Art Gallery, p. 265- 270. 
| | |
| --- | --- |
| Creation date | fin XIXe |
| Languages | French |
| Physical description | bois et nacre d'haliotide, barbillons d'otarie, fourrure d'hermine |
| From / Provenance | Ancienne collection du Museum of the American Indian, New York, aujourd'hui le National Museum of the American Indian, Smithsonian Institution, Washington, D.C. Date d'acquisition par le Museum of the American Indian : 1926. Date d'acquisition par André Breton : juin 1965 – acheté à la Galerie Jacques Kerchache, rue de Seine, Paris. |
| Place of origin | |
| Method of acquisition and collection | U'mista Cultural Centre, Alert Bay, Colombie britannique (Canada) ; date de restitution : septembre 2003 ; restitué par Aube et Oona Elléouët |
| Keywords | Indigenous peoples of the Americas, desk, Mask, Ceremonial Art |
| Categories | Native Americans, Etnographical Art, British Columbia |
| Permanent link | https://www.andrebreton.fr/en/work/56600100401120 |
Places of origin
See also
1 Work
False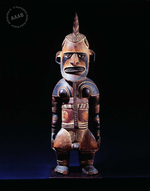 Click to order the image