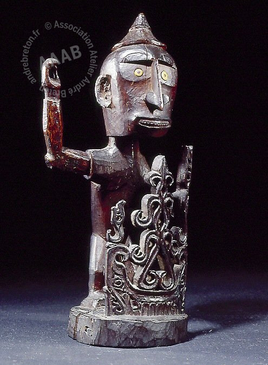 Korwar Ancestor Statue
North East New-Guinea
Description
Grand personnage debout, la main droite levée en une attitude menaçante, celle de gauche tenant devant lui un bouclier à décor ajouré asymétrique. La tête fine porte une coiffe en cône, le visage est orné aux yeux de perles de verre jaune. Le nez est long, terminé en pointe de flèche, la bouche rectangulaire montre les dents. Les oreilles en demi-cercle sont en léger relief. Le corps est longiligne.
Belle statuette d'ancêtre dans une pose originale, la patine ancienne du bois est superbe.
Exposition
Paris, Musée National d'Art Moderne/Centre Georges Pompidou,
André Breton, La beauté convulsive
, 1991, rep. p. 67 (photo Sabine Weiss, 1960, dans l'atelier), rep. p. 405 (photo Lipinski, dans l'atelier vers 1950), cité p. 492 (probablement, car dimension différente).
Bibliography
- L'Art Océanien, collection Le Musée vivant, n° 38, Paris, 1951. Détail de la tête rep. p. 56, fig. 81
- Vincent Bounoure, « Les Korwars de Nouvelle-Guinée Hollandaise », L'Œil, mai 1971, rep. p. 11.
| | |
| --- | --- |
| Languages | French |
| Physical description | Haut : 38 cm (15 in.) - Fentes et manque à l'arrière du crâne, restauration indigène au bras droit. - Bois dur à patine brun foncé, perles de verre jaunes |
| Place of origin | |
| Size | 38,00 cm |
| Breton Auction, 2003 | Lot 6118 |
| Keywords | Ceremonial Art, Oceania, Sculpture |
| Categories | Melanesian Art, Oceanian, Ppolynesian, Melanesian Art |
| Exhibition | André Breton, La Beauté convulsive |
| Permanent link | https://www.andrebreton.fr/en/work/56600100192680 |
Place of origin
See also
2 Works
False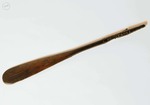 Click to order the image
Cuiller spatule située sur le mur de l'atelier d'André Breton.
Une image, une notice descriptive, un musée.
False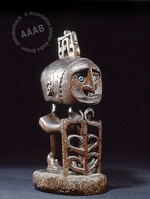 Click to order the image
Important personnage debout tenant devant lui un grand bouclier à décor ajouré.