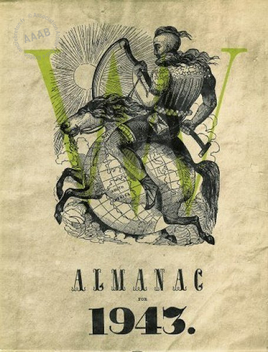 VVV, 2-3
n° 2-3
Author
Edited by David HareIllustrated by Thomas Bouchard, Giorgio De Chirico, Gypsy Rose Lee, Susy Hare, Gérôme Kamrowski, Frederick John Kiesler, Wifredo Lam, Jacqueline Lamba, Clarence John Laughlin, Barbara Reis, Sonia Sekula, Dorothea Tanning, Victor Brauner, André Breton, Leonora Carrington, Marc Chagall, Oscar Dominguez, Marcel Duchamp, Max Ernst, David Hare, André Masson, Roberto Echauren Matta, Joan Miró, Kurt Seligmann, Yves TanguyCover design by Marcel DuchampText by Xavier Abril, Braulio Arenas, Anatole Bisk, dit Alain Bosquet, Jorge Caceres, Arthur Cravan, Susy Hare, Frederick John Kiesler, Victor Llona, Robert Allerton Parker, Denis de Rougemont, Juan Ríos, Kay Sage, William Seabrook, Sonia Sekula, Dorothea Tanning, Guillaume Apollinaire, Victor Brauner, André Breton, Leonora Carrington, Aimé Césaire, Charles Duits, Enrique Gomez-Correa, Alfred Métraux, Benjamin Péret, Edouard Roditi, Kurt Seligmann
Description
Numéro double, publié en mars 1943, de cette revue surréaliste fondée par David Hare en 1942 à New York.
Collection complète de cette revue dirigée par David Hare en collaboration avec André Breton, Marcel Duchamp et Max Ernst. Textes en anglais et en français, parfois bilingue de Breton, Carrington, Césaire, Cravan, Péret, etc.
Nombreuses illustrations en noir et en couleurs, parfois sous forme de découpages de Brauner, Chirico, Duchamp, Ernst, Matta, Picasso, Tanguy, etc.
Couverture illustrée et conçue par Marcel Duchamp.
Cette célèbre couverture de Duchamp est comme il se doit un « Ready Made ».
Sur le premier plat, Duchamp se sert sans le modifier d'un dessin d'un anonyme représentant une allégorie de la mort : « A bizarre horse-man. » [catalogue de la vente, 2003]
Table of Contents
Charles Duits – Le Jour est un Attentat
William Seabrook – The Door Swung Inward
Alfred Métraux – Note sur Deux Images en Tapa de l'Ile de Pâques
André Breton – Situation du Surréalisme entre les 2 Guerres
Robert Allerton Parker – Such Pulp as Dreams are Made On
Robert Allerton Parker – The Anaesthetic Revelation
Denis de Rougement – Angérone. – La Gloire
Victor Brauner – Du Fantastique  –  I. en Peinture, II. au Théâtre
Frederick J. Kiesler – Design-Correlation
Arthur Cravan – Notes (suite et fin)
Kurt Seligmann – Prognostication by Paracelsus / Surrealist Bibliography
Dorothea Tanning – Blind Date
Édouard Roditi – Psychological Novelette
Leonora Carrington – The Seventh Horse
Victor Llona – Two Young Peruvian Poets
In the Mail (Charles Duits, Braulio Arenas)
Poems by
Xavier Abril, Guillaume Apollinaire, Braulio Arenas, Benedicta, Alain Bosquet, André Breton, Jorge Caceres, Aimé Césaire, Enrique Gomez-Correa, Susy Hare, Benjamin Péret, Juan Rios, Sonia Sekula.
Illustrations by
Bouchard, Victor Brauner, André Breton, Leonora Carrington, Marc Chagall, G. de Chirico, Oscar Dominguez, Marcel Duchamp, Max Ernst, David Hare, Susy Hare, Herold, G. Kamrowski, Frederick J. Kiesler, Wifredo Lam, Jacqueline Lamba, Clarence Laughlin, André Masson, Matta, Joan Miró, Barbara Reis, Gypsy Rose Lee, Kay Sage, Sonia Sekula, Kurt Seligmann, Yves Tanguy, Dorothea Tanning, etc.
Dessin machinal – Dessin successif
| | |
| --- | --- |
| Bibliographical material | New York, s.é., n° 2-3 de mars 1943. Grand In-4°. Couverture illustrée, broché. |
| Issue | 2-3 |
| Date of publication | 01/03/1943 |
| Publication | first publication |
| Languages | English, French |
| Size | 21,90 x 28,60 cm |
| Number of pages | 143 p. |
| Publisher | Sans éditeur |
| Reference | 6641000 |
| Breton Auction, 2003 | Lot 1157 |
| Keywords | arts, Correspondence, Painting, Photography, Reviews and Journals, Surrealism |
| Categories | Journals |
| Set | [Journal] VVV |
| Permanent link | https://www.andrebreton.fr/en/work/56600101001420 |