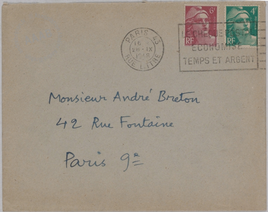 Description
Lettre de Jean Dubuffet adressée à André Breton le 28 septembre 1948 avec la circulaire "où se trouve défini notre Art Brut".
Joseph Crépin, Gironella, Wölfli, Hippolyte, Hernandez sont au centre de cet ensemble de lettres de Jean Dubuffet à André Breton. En 1948, autour de la Compagnie de l'Art brut, dont nous avons ici les statuts et à laquelle appartiennent également Jean Paulhan, le critique Michel Tapié, le romancier Henri-Pierre Roché (l'auteur de Jules et Jim) et le galeriste Charles Ratton (spécialisé dans l'art primitif et avec lequel Breton était en contact depuis la fin des années 1930), divers projets voient le jour : animation du Foyer de l'art brut, expositions (Wölfli). Le plus intéressant est cet Almanach de l'art brut dont Dubuffet assure la coordination et dont il envoie ici le plan à Breton. On remarquera particulièrement, dans cette liasse de lettres, celle du 28 septembre 1948, souvent citée, qui voit Dubuffet proposer de dresser un « monument à l'oubli ». On notera aussi que c'est autour du moment « art brut » que Breton achève de se tourner en priorité vers la critique d'art, qui l'occupera presque exclusivement pendant près de vingt ans. [site Atelier André Breton, 2005]
Lettre tapuscrite et autographe, 28 septembre 1948.
Placé sous chemise cartonnée titrée "L'Art brut" dans un dossier constitué par André Breton, l'ensemble comporte 8 lettres (11 pages in-12 et 1 page in-4° avec enveloppes). Celle-ci forme une page, et elle est accompagnée d'une circulaire. [catalogue de la vente, 2003]
See also
1 Work
False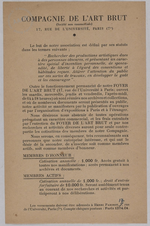 Click to order the image
-
Statuts définitifs de la Compagnie de l'art brut, et bulletin d'adhésion à l'association.
Six images, une description, un dossier, un musée.