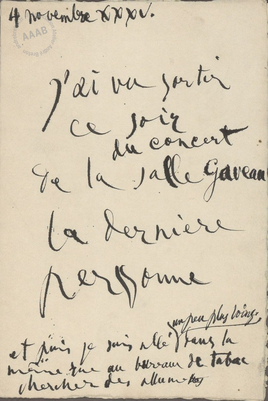 Description
Manuscrit autographe de Pablo Picasso, l'un daté du 4 novembre 1935, l'autre de 1938, les deux sous enveloppe titrée.
Soigneusement datées et intitulées de la main de Breton, nous avons ici deux pages de Picasso, datant de ces années 1930 où il s'est rapproché des surréalistes. On s'intéressera surtout à cette étonnante « calligraphie automatique », quasi-illisible, qui offre une traduction graphique originale de l'écriture automatique. [site Atelier André Breton, 2005]

Page autographe et calligraphie automatique, 1935-1938.
- 1 page in-8° sur papier fort, texte autographe de Picasso daté du 4 novembre 1935, dans une belle calligraphie à pleine page.
« J'ai vu sortir ce soir du concert de la salle Gaveau la dernière personne et puis je suis allé un peu plus loing [sic], dans la même rue, au bureau de tabac chercher des allumettes. »
- 1 page in-4°, calligraphie automatique signée par Picasso au recto du papier en-tête de la F.I.A.R.I. (sous enveloppe titrée et datée 1938 par André Breton). La calligraphie automatique est reproduite dans le catalogue de l'exposition surréaliste à la galerie L'Œil. Rarissime document. [catalogue de la vente, 2003]
Exhibition place
See also
1 Work
False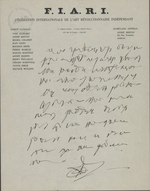 Click to order the image
Calligraphie automatique signée par Picasso et datée par André Breton de 1938.

Une image, une notice descriptive, une exposition.