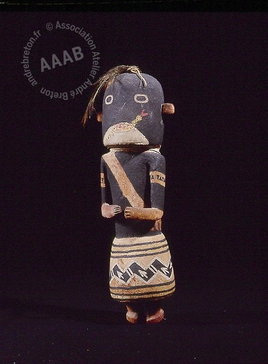 Description
Très rare, cette poupée Kachina Saviki, ou Kachina-au-serpent, dont le nom change d'une Mesa à l'autre, porte un masque heaume de couleur noire, les yeux sobrement cernés de blanc. De petites plumes sont fichées sur le sommet, les oreilles en demi-cercles sont rapportées. Elle tient, tout comme le danseur qu'elle représente, un serpent « bullsnake » (gophère polyphème ou Drymarchon corais couperi) dans la bouche. Le buste noir est barré d'une écharpe en baudrier ocre rouge. Les bras repliés sont séparés du corps, les mains tendues en avant. Le kilt en corolle contraste avec la couleur noire du buste. Elle est ornée d'une frise en zigzag décorée d'un motif de flèche symbolisant le rôle protecteur du Kachina.

Selon les archives de la Heye Foundation, ce masque proviendrait du village d'Oraibi, sur la Troisième Mesa. Il est fort probable qu'il date des années 1920.

André Breton eut l'occasion de voir en 1945 à Mishongnovi, une « danse du serpent ». Sans doute ce Kachina, avait-il pour lui une valeur tout à fait particulière.
Bibliography
Expositions
- Paris, Pavillon des Arts,
La danse des Kachina - Poupées Hopi et Zuni dans les collections surréalistes et alentour
, 1998, n° 17, rep. p. 66
- Paris, Musée National d'Art Moderne/Centre Georges Pompidou,
La Révolution surréaliste
, 2002
- Düsseldorf, K20 Kunstsammlung Nordrhein - Westfalen,
Surrealismus, 1914 - 1944
, 2002

- Alain Jouffroy, « La collection André Breton », L'Œil, n° 10, octobre 1955, rep. p. 36
- Paris, Musée National d'Art Moderne/Centre Georges Pompidou, André Breton, La beauté convulsive, 1991, rep. p. 77 (photos Sabine Weiss, 1960, dans l'atelier)
- M.-E. Laniel-Le François, José Pierre, Jorge Camacho, Kachina des Indiens Hopi, Saint-Vit, Éditions Danièle Amez, 1992, rep. p. 335
| | |
| --- | --- |
| Languages | French |
| Physical description | Haut : 32 cm (12 1/2 in.) - Restauration locale, bouchage possible au menton. - Bois, polychromie noire, ocre, verte, rouge et blanche, plumes |
| From / Provenance | Ancienne collection Carl O. Borg, Heye Foundation n° d'inventaire 11/3666, échange avec Julius Carlebach en octobre 1944 |
| Place of origin | |
| Size | 32,00 cm |
| Breton Auction, 2003 | Lot 6190 |
| Keywords | Arizona, Indigenous peoples of the Americas, organic items, Ceremonial Art |
| Categories | Native Americans, Etnographical Art, Hopi and Zuni |
| Permanent link | https://www.andrebreton.fr/work/56600100627640 |
See also
1 Work
False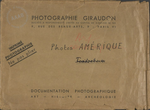 Click to order the image
-

Douze photographies d'objets d'art précolombien et d'Amérique.
14 images, une notice descriptive à compléter.