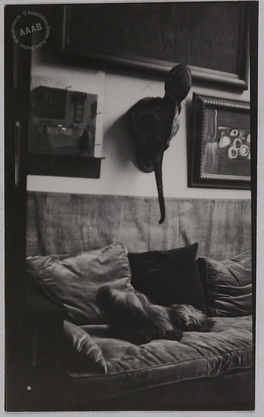 Description
4 tirages photographiques représentant l'appartement d'André Breton, rue Fontaine, à Paris.
Le premier tirage daté de 1929 représente Melmoth, le chien d'André Breton, sur le canapé et le deuxième représente le fameux mur dans une version encore très dépouillée. On y joint 2 tirages de deux autres photographies de la rue Fontaine prises après-guerre.[catalogue de la vente, 2003]
See also
2 Works
False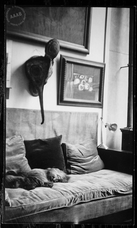 Click to order the image
-
Une photographie de l'atelier rue...
Une image, une notice descriptive à compléter, une exposition, une bibliographie.
False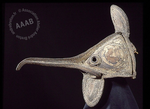 Click to order the image
-
Casque aux yeux tubulaires surmonté d'une coiffe en palette arrondie, le visage bordé d'une barbe et d'une arête frontale prolongée dans le long bec ou nez recourbé surplombant une large bouche en triangle.