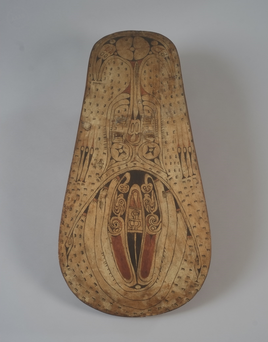 Bouclier
îles Trobriand, Nouvelle-Guinée
Description
Bouclier « cérémoniel » en bois polychrome des îles Trobriand, daté de 1895.
Inscription au dos : « Bt. of Fenton, May 1895. Trobriand Islands, S. Pacific. »
Cette inscription fait référence aux lieu et date d'acquisition par le lieutenant-général Augustus Pitt-Rivers (1827-1900). Collectionneur, Pitt-Rivers est  à l'origine de la fondation du Pitt-Rivers Museum d'Oxford.
Cette fiche est en cours d'élaboration.
Exposition
- Cahors, Musée de Cahors Henri-Martin, La Maison de verre, André Breton, initiateur découvreur, 20 septembre - 29 décembre 2014
Bibliography
- Musée de Cahors Henri-Martin, La Maison de verre André Breton initiateur découvreur, Paris, Éditions de l'Amateur, 2014, rep. p. 88
Creation date
sd
Languages
French
Physical description

Bois, polychromie noire et rouge sur fond blanc
Haut: 80 cm

From / Provenance
sl
Place of origin
Size
80,00 cm
Reference
4544000
Keywords
Melanesia, Ceremonial Art, Decorative Art, Oceania
Categories
Etnographical Art, Melanesian Art, Oceanian, Ppolynesian, Melanesian Art
Exhibition
André Breton, The House Of Glass
Permanent link
https://www.andrebreton.fr/en/work/56600100080430
2 Comments
objet cul par-dessus tête, retourner la photo. cordialement, GB
08/07/2009
Merci Gilles Bounoure, l'objet a été remis sur son séant.
19/07/2016