Exposition Aloyse
Exposition des œuvres d'Aloïse Corbaz ou Aloyse du 7 au 31 décembre 1948 au foyer de l'art brut.
Exhibition place
1 Work
False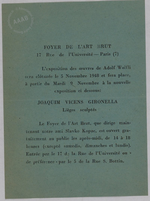 Click to order the image
-
2 feuillets d'invitation au foyer de l'Art brut pour l'exposition Gironella et pour celle d'Aloyse en 1948.
Deux images, une description, un dossier, un musée.