Discours du 27 juin 1941
Discours au Rescue Committee qu'André Breton prononça le 27 juin 1941.
1 Work
False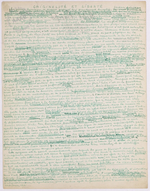 Click to order the image
-
Publié pour la première fois en français dans le troisième volume de la Pléiade, ce texte a été rédigé le 1er juillet 1941 pour une revue de Sydney, Art in Australia.
Deux images, une notice descriptive, une bibliographie, une bibliothèque.