Formes humaines : Trois continents, Afrique, Amérique, Océanie
Exposition inaugurale de la galerie Le Corneur-Roudillon, sise 3bis rue des Beaux-Arts à Paris.

Exhibition place
2 Works
False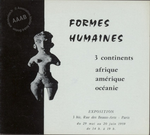 Click to order the image
-

Catalogue d'exposition publié en 1959 par la galerie Le Corneur-Roudillon.
Six images, une notice descriptive, un lien, une exposition.
False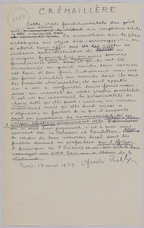 Click to order the image
-

Manuscrit d'André Breton daté du 14 mai 1959 pour une exposition rue des Beaux-Arts en mai-juin.
Une image, une nocitce descriptive, une bibliographie, une exposition.