Jean Arp fondation
Il existe dans les hauteurs de Clamart un lieu isolé, inséré dans le bois à la limite de Meudon. Ce lieu particulier, délimité par trois rues en triangle (des Châtaigniers, des Fougères et du Cèdre), a toujours attiré les artistes et les amateurs d'architecture.
C'est ici que Jean Arp et Sophie Taeuber décidèrent de s'installer en 1927, après avoir acquis la nationalité française. Dans une maison-atelier dessinée et construite par Sophie Taeuber. Un bâtiment cubique, rugueux, neutre, qui a la rigueur d'un monastère cistercien. Un lieu de création, qui illustre les affinités complémentaires des deux artistes. Un lieu de rencontres, d'échanges d'idées et de lancements d'initiatives les plus diverses (expositions, publications.) où se retrouvèrent, aux côtés de collectionneurs suisses, allemands ou américains, la plupart des artistes , écrivains et intellectuels européens marquants de ce temps.
 HORAIRES ET TARIFS DES VISITES
Ouverture les vendredi, samedi, dimanche et lundi de 14 à 18h et sur rendez-vous.
Tarif visiteurs : 6 euros par personne.
Tarif réduit : 4 euros (moins de 16 ans, étudiant, groupe de plus de 10 personnes)
Gratuit pour les enfants de moins de 10 ans
2 Works
False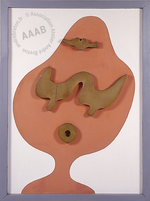 Click to order the image
-
Relief en bois peint daté de 1927, montré en 1991 à l'exposition « André Breton, la beauté convulsive » au Centre Georges Pompidou.
Une image, une longue notice descriptive, une bibliographie, des expositions.
False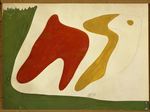 Click to order the image
-
Peinture de Jean Arp située sur le mur de l'atelier d'André Breton.
Une image, une notice descriptive à compléter, des expositions, une bibliographie.