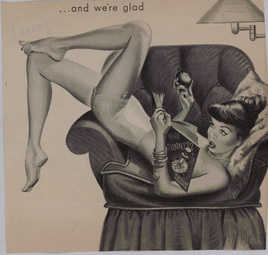 Description
Coupure de presse, sans date.
Il était logique que Raymond Roussel, qui se voit consacrer un autel par les surréalistes pour l'Exposition internationale du surréalisme de 1947, soit placé sous le signe du capricorne - signe volontaire, voire entêté, comme on sait. Associé aussi à la pierre brute, il se voit ici rendre un culte par Matta et Duchamp, qui imaginent un dispositif évoquant l'histoire, jusqu'à l'ère atomique qui vient de commencer ; mais l'histoire est aussi mouvement perpétuel, « roue de sel », « voyages inutiles » comme ceux qu'il fit lui-même. Deux manuscrits, l'un de Duchamp, l'autre (une lettre) de Matta, sont glissés dans ce dossier. « Les portes du ciel, lit-on sur l'autel de Roussel, sont ouvertes et l'homme renaît de son sommeil léthargique ». Pour l'auteur des Impressions d'Afrique, disparu en 1933, il eût mieux valu ne pas ressusciter : car Benjamin Péret se promet de le nourrir d'une « banane qui tremble ». [Site Atelier André Breton, 2005]
Coupure de presse jointe au dossier sur l'autel de Raymond Roussel, sans date [1947].
Lettre manuscrite autographe de Roberto Matta, signée, [s.d.], [s.l.] au crayon noir et de couleur, illustrée d'un croquis original d'une œuvre et de son schéma d'installation pour l'exposition, accompagnée d'une coupure de presse « ... and we're glad » (2 f. recto verso et recto, 1 coup. de presse). [Site Bibliothèque Kandinsky, 2023]
Exhibition place
See also
1 Work
False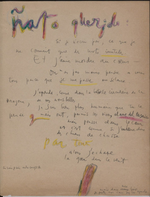 Click to order the image
-

Lettre signée de Roberto Matta à André Breton, sans date.
Trois images, une notice descriptive, une bibliothèque, une œuvre associée.