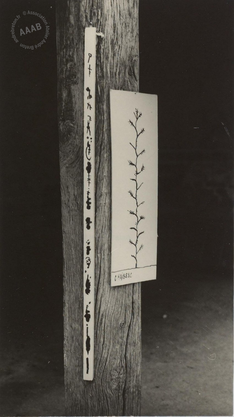 Description
Photographies de Gaston Chaissac par Gilles Erhmann envoyées à Benjamin Péret par lettre.
9 tirages originaux de Gilles Ehrmann, représentant Chaissac et ses œuvres pour l'album Les Inspirés et leurs demeures qui paraîtra en 1962.
Tampon de Gilles Ehrmann au verso de chaque photographie.
La plupart des photographies sont de tirage 27 x 20 cm. [catalogue de la vente, 2003]
See also
1 Work
False
Click to order the image
Lettre de Gilles Ehrmann à Benjamin Péret, relative à ses photographies de Chaissac.
Une image, une notice descriptive.