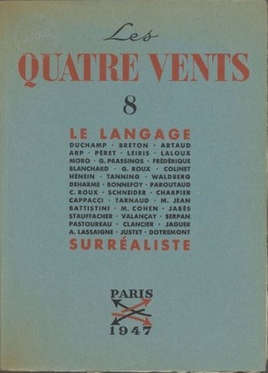 Les Quatre Vents, 8
Le langage surréaliste
Author
Edited by Henri ParisotText by Yves Battistini, Maurice Blanchard, Bruno Capacci, Jacques Charpier, Cohen, Paul Colinet, Christian Dotremont, André Frédérique, Georges Hénein, Édouard Jaguer, Lucien Justet, Michel Leiris, César Moro, J. M. A. Paroutaud, Gisèle Prassinos, George Roux, Marcel Schneider, Iaroslav Serpan, Dorothea Tanning, Robert Valançay, Patrick Waldberg, Jean ou Hans Arp, Antonin Artaud, Yves Bonnefoy, André Breton, Georges-Emmanuel Clancier, Lise Deharme, parfois dite Lise Hirtz, Marcel Duchamp, Edmond Jabès, Marcel Jean, François Laloux, Henri Pastoureau, Benjamin Péret, Claude Tarnaud
Description
Numéro 8, publié en mars 1947, de cette revue dirigée par Henri Parisot à Paris.
Textes de Duchamp, Breton, Artaud, Péret, etc. [catalogue de la vente, 2003]
Table of Contents
Marcel Duchamp - Quand la fumée 
André Breton - Xénophiles (À Aimé Césaire, Georges Gratiant, René Ménil)
Antonin Artaud - Les malades et les médecins
Hans Arp - Il chante, il chante 
Benjamin Péret - Histoire naturelle 
Michel Leiris - Marécage du sommeil 
François Laloux - L'Amourache 
César Moro - Lettre d'amour 
Gisèle Prassinos - Le jeu / Le gros chèque 
André Frédérique - Curriculum vitae 
Maurice Blanchard - Le grand passage 
Georges Roux - Fenêtre d'eau douce 
Paul Colinet - Les métamorphoses du vide 
Georges Henein - Lucrezia 
Dorothea Tanning - Rêvez-le ou ne lisez pas 
Patrick Walberg - Divin marquis 
Lise Deharme - Le revenant 
Yves Bonnefoy - Un barrage d'oiseaux 
J.M.A. Paroutaud - Nuit partielle 
Claude Roux - Rêve 
Marcel Schneider - L'orphéon délicat 
Jacques Charpier - Apprentie 
Bruno Capacci - Les archives de la Chrysalide 
Claude Tarnaud - Lettre d'ici-bas 
Marcel Jean - Phantase 
Yves Battistini - Le cœur léger 
Myriam Cohen - Z'Œuvres 
Edmond Jabès - Trois filles… 
Hans Rodolph Stauffacher - Oumph 
Robert Valançay - C'est plein de nombres là-dedans 
Iaroslv Serpan - Paroles d'avant la nuit 
Henri Pastoureau - Sur un air de Grillparzer 
Georges-Emmanuel Clancier - De loin en loin… 
Edouard Jaguer - Les bateleurs du premier mai 
Assia Lassaigne - Il y avait… 
Lucien Justet - Apologue nautique 
Christian Dotremont - Les grottes du tendre
See also
2 Works
False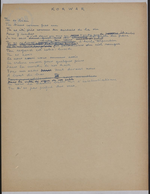 Click to order the image
-

Published in Poèmes of 1948, an undated, unsigned manuscript by André Breton.
False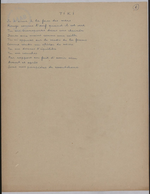 Click to order the image
-

Manuscrit autographe d'André Breton non daté, non signé.
Une image, une notice descriptive, une ibliographie, une bibliothèque.