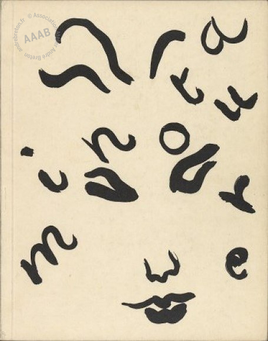 Minotaure, 9
Revue artistique et littéraire
Author
Authors Georges Duthuit, James Edward, Le Corbusier, Jacques Prévert, Stratis Eleftheriadis, dit É. Tériade, Lionello Venturi, André Breton, Roger Caillois, Maurice Heine, Maurice RaynalEdited by Albert SkiraCover design by Henri Matisse
Description
Numéro 9, daté d'octobre 1936, de la revue lancée en 1933 par Albert Skira à Paris.
Couverture illustrée par Matisse. [catalogue de la vente, 2003]
Table of Contents
Couverture composée par Henri Matisse
5 bors-texte et 3 planches en couleurs
E. Tériade – Constance du fauvisme : Reproduction d'œuvres récentes de Henri Matisse / Hors-texte en couleurs : Nature morte de Henri-Matisse
Roger Caillois – Le complexe de Midi
Maurice Raynal – Réalité et mythologie  des Cranach 
17 reproductions d'œuvres des Cranach.
Hors-texte en couleurs : « le Massacre des Innocents » de Poussin.
James Edward – The Marvel of Minuteness
Hors-texte en couleurs : « Jane Seymour », par Hans Holbein.
André Breton – Le Merveilleux contre le Mystère
À propos du symbolisme. 12 portraits des poètes symbolistes.
Trois aquarelles de Picasso. 1 hors-texte en couleurs.
Lionello Venturi – Sur les dernières années de Cézanne
16 reproductions inédites d'œuvres de Cézanne.
Jacques Prévert – Terres cuites de Boétie
17 reproduction inédites de terres cuites béotiennes provenant du Musée National d'Athènes.
Georges Duthuit - Edgard Degas chez Ambroise Vollard
9 reproduction des dernières œuvres de Degas.
Audiberti – Naissance d'un homme
Maurice Heine – Martyres en taille douce
8 reproductions de gravures anciennes.
Edward James – Le chapeau du Peuple
3 reproductions en couleurs in-texte.
Salvador Dali – Première loi morphologique sur les poils dans les structures molles
Le Corbusier – Louis Sutter, l'inconnu de la soixantaine
Feuilletoir Gallica
| | |
| --- | --- |
| Bibliographical material | Paris, Éditions Albert Skira, numero 9 d'octobre 1936. In-4°. |
| Issue | 9 |
| Date of publication | 01/10/1936 |
| Publication | first publication |
| Languages | French |
| Size | 24,00 x 32,00 x 1,00 cm |
| Number of pages | [72 p.] |
| Publisher | Skira, Genève, Paris |
| Reference | 9636000 |
| Breton Auction, 2003 | Lot 1137 |
| Keywords | Aesthetic, Poetry, Reviews and Journals |
| Categories | Journals |
| Set | [Journal] Minotaure |
| Permanent link | https://www.andrebreton.fr/en/work/56600101001381 |