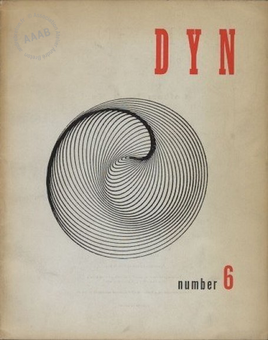 Dyn, 6
The Review of Modern Art, n° 6
Author
Person cited Alice Rahon-PaalenEdited by Wolfgang PaalenIllustrated by Manuel Alvarez Bravo, William Baziotes, Georges Braque, Xenia Cage, Donald Cordry, William Fett, Giles Greville-Healey, Stanley William Hayter, Doris Heyden, Evelyn Hofer, Harry Holtzman, Jean Hélion, Francisco Díaz de León, Carlos Merida, Henry Moore, Gordon Onslow-Ford, Wolfgang Paalen, Jackson Pollock, Walter Reuter, Jeanne Reynal, Rosa Rolanda, Eva Sulzer, Alexander Calder, Miguel Covarrubias, Robert Motherwell, Pablo Picasso, Alice Rahon-PaalenText by Charles Givors, Jacqueline Johnson, César Moro, Anaïs Nin, Wolfgang Paalen, Gustav Regler, Carter Stone, Eva Sulzer, Miguel Covarrubias, Robert Motherwell
Description
Numéro 6 de la revue Dyn paru 1944 chez Wolfgang Paalen à Mexico.
Ce numéro fait partie de la collection complète en 6 numéros de la très rare revue Dyn de Wolfgang Paalen.
Textes de Paalen, César Moro, Henry Miller, Valentine Penrose, etc.
Illustrations d'Alvarez Bravo, Calder, Matta, Picasso, Paalen, Pollock, etc. [catalogue de la vente, 2003]
« Le magazine Dyn (1942-1944) est une publication que l'artiste autrichien Wolfgang Paalen édita au Mexique mais distribuée à Londres et à New York. C'est un magazine qui regroupe dans ses pages un surréalisme dissident, loin des amis de Breton. Dyn est né à la suite de l'Exposition internationale du surréalisme qui a eu lieu à Mexico en 1940. La revue compte six numéros. » (Traduit de l'espagnol par Google, source : La revista Dyn (1942-1944). Sus principales contenidos)
Table of Contents
Contents
Wolfgang Paalen - On the Meaning of Cubism Today
Robert Motherwell - The Modern Painter's World
Carter Stone and Wolfgang Paalen - During the Eclipse
Jacqueline Johnson - Exposition Alice Paalen
Miguel Covarrubias - La Venta / Colossal Heds and Jaguar Gods
Anaïs Nin - The Eye's Journey
Jacqueline Johnson - The Earth
En Français
Gustav Regler - L'Ile à Deux Faces (poème)
Gustav Regler - Rencontre des Villes
Cesar Moro - Le Temps poèmes
Eva Sulzer - Rêves de Papillons
Charles Givors - L'Abreuvoir
Wolfgang Paalen - Rencontre Totémique /  Actualité du Cubisme / Pendant l'Éclipse
Illustrations
Manuel Alvarez Bravo, William Baziotes, Georges Braque, Xenia Cage, Alexander Calder, Donald Cordry, Miguel Covarrubias, Francisco Diaz De Leon, William Fett, William Hayter, Giles Greville-Healey, Jean Hélion, Doris Heyden, Evelyn Hofer, Harry Holtzman, Matta, Carlos Merida, Henry Moore, Robert Motherwell, Gordon Onslow-Ford, Wolfgang Paalen, Pablo Picasso, Jackson Pollock, Alice Paalen, Walter Reuter, Rosa Rolanda, Jeanne Reynal David Smith, Eva Sulzer.
| | |
| --- | --- |
| Bibliographical material | Mexico, Wolfgang Paalen, n° 6 de 1944. In-4°, couverture illustrée, broché. |
| Issue | 6 |
| Date of publication | 1944 |
| Publication | first publication |
| Languages | English, French |
| Size | 29,00 cm |
| Number of pages | 62 p. |
| Publisher | Wolfgang Paalen, Mexico |
| Reference | 9591000 |
| Breton Auction, 2003 | Lot 1154 |
| Keywords | Graphic Arts, Painting, Poetry, Reviews and Journals |
| Categories | Journals |
| Set | [Revue] Dyn |
| Permanent link | https://www.andrebreton.fr/en/work/56600101001377 |