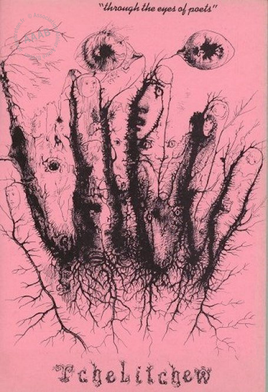 View, 2e série, n° 2
Yves Tanguy / Pavel Tchelitchew
Author
Drawings by Yves Tanguy, Pavel TchelitchewEdited by Charles Henri FordCover design by Yves Tanguy, Pavel TchelitchewPhotographs by André Kertész, David Hare, non identifiéText by Nicolas Calas, John B. L. Goodwin, Lincoln Kirstein, Dwight McDonald, Montagu O'Reilly, Harold Rosenberg, James Johnson Sweeney, Parker Tyler, André Breton, Charles Henri Ford, Henry Miller, Benjamin Péret, Kurt Seligmann, James Thrall Soby, William Carlos Williams
Description
Numéro 2 de la deuxième série de la revue View, paru en mai 1942 chez Charles Henry Ford à New York.
Numéros importants consacrés à Max Ernst, à Tanguy, au fantastique, etc.
Nombreuses reproductions et illustrations d'œuvres de Max Ernst, Yves Tanguy, André Masson, etc.
(cartonnage décoloré par endroit). [catalogue de la vente, 2003]
« Couvertures couleur pêche de Pavel Tchelitchew et Yves Tanguy. Imprimé dos-à-dos. » (source : Laurence McGilvery)
Table of Contents
Authors beginning with Tanguy section:
André Breton – What Tanguy veils and reveals
Nicolas Calas – Alone
James Johnson Sweeney – Iconographer of Melancholy
Benjamin Péret – Tanguy, or, the goose-barnacle torpedoes the Jivaros
John B.L. Goodwin – Fragment, untitled
Harold Rosenberg – Breton – A dialogue
Nicolas Calas – Notes on liberty
Kurt Seligmann – It's easy to criticize
Charles Henri Ford – There's no place to sleep in this bed, Tanguy
Authors beginning with Tchelitchew section:
Parker Tyler – Tchelitchew's world
James Thrall Soby – Return to the north
Lincoln Kirstein – The position of Pavel Tchelitchew
William Carlos Williams – Cache cache
Montagu O'Reilly – Once the soft silken damage done
Reproductions (Tanguy section, order of appearance)
Yves Tanguy – Drawing
Kertesz – Photo (no title, bottom of page)
Kertesz – La structure chez Tanguy
Palette of the artist
Yves Tanguy – Time and again (1942)
Y. T. – Extinction of unnecessary lights (1927)
Y. T. – The sandman (Surrealist Postcard)
David Hare – Yves Tanguy (photo, 1942)
Y. T. – Three's A crowd (1932)
Y. T. – Palais Promontone (1930)
Y. T. – Drawings (untitled, with poem by C.H.F)
Reproductions (Tchelitchew section, order of appearance)
Pavel Tchelitchew – The ogre (1941), Drawing
P. T. – Body in space (1926)
P. T. – Drawing, untitled; same page: Phenomena (Detail, 1938)
P. T. – Human still life (1930)
P. T. – Portrait of my father (1940)
Tchelitchew – Bullfight (1934)
P. T. – Head of Edith Sitwell (1929)
Sculpture in Wire and Wax
J. R. – Pavel Tchelitchew (1942), Photo
Pavel Tchelitchew – Metamorphose: Head of René Crevel (1925), Blue clown (1929), Nude in Space (1926), Children (1940)
P. T. – Detail from the ogre (untitled)
P. T. – The green head (1940)
Miscellaneous:
Books and Texts illustrated by Yves Tanguy, etc.
Views Listens: Letters from William Carlos Williams, Henry Miller, Dwight McDonald, Parker Tyler and André Masson
Lewis Carrol – Alfred Lord Tennyson (photo); "Night" and "Day"
| | |
| --- | --- |
| Bibliographical material | New York, Charles Henry Ford, vol. 2, n° 2, mai 1942. In-8°, couverture illustrée par Yves Tanguy et Pavel Tchelitchew. |
| Issue | 2 |
| Date of publication | Mai 1942 |
| Publication | first publication |
| Languages | English |
| Size | 26,30 x 18,40 cm |
| Publisher | Charles Henri Ford, New-York |
| Reference | 6757000 |
| Breton Auction, 2003 | Lot 1152 |
| Keywords | Painting, Poetry, Reviews and Journals, Surrealism |
| Categories | Journals |
| Set | [Journal] View |
| Permanent link | https://www.andrebreton.fr/en/work/56600101001372 |