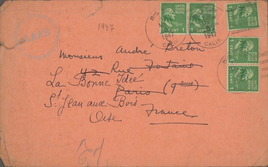 Description
Lettre de Henry Miller à André Breton, datée de Big Sur (Californie), le 7 mai 1947.
Lettre autographe datée de 1947 et signées de Henry Miller à André Breton sur ces cartes illustrées par Man Ray (observatory time. The lovers).
Lettre encartée dans le livre Tropique du Cancer que Breton conserve dans sa bibliothèque. [catalogue de la vente, 2003]
Place of origin
Place of destination
See also
1 Work
False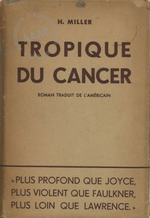 Click to order the image
Roman de Henri Miller publié en 1945 aux Éditions Denoël à Paris.
Trois images, une notice descriptive, un lien.