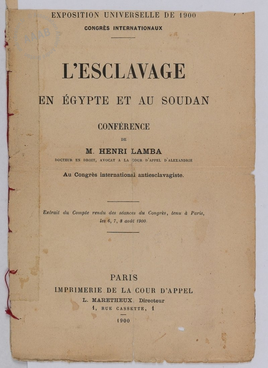 L'Esclavage en Égypte et au Soudan
Esclavage Egypte Soudan
Author
Author Henri Lamba
Description
Conférence d'Henri Lamba, prononcée et imprimée à la Cour d'Appel de Paris en 1900, et envoyée à André Breton par un inconnu en mai 1938. 
Sur la dernière page on peut lire : « Note : Ceci a été à mon retour de Russie passé avec effort [illisible] d'où ce triste état. C'est précieux ? Pas sûr, mais cela peut être utile. » Breton ne s'étant jamais rendu en Russie, il semble bien que ce fût une de ses connaissances qui lui fît parvenir ce texte. André Breton a toujours été un farouche opposant au colonialisme : un tel texte ne pouvait que l'intéresser. [Site André Breton, 2020]
Place of origin
See also
1 Work
False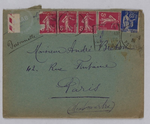 Click to order the image
-

Pneumatique d'auteur inconnu, envoyé en mai 1938.
18 images, une notice descriptive, une œuvre associée, une bibliothèque, des liens.