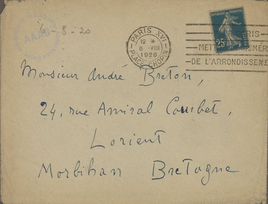 Description
Lettre de Francis Picabia à André Breton, adressée de Paris à Lorient le 6 août 1920.
Lettre autographe signé de Francis Picabia à André Breton, relative à la publication de Unique Eunuque et à la revue 391.
La lettre est illustrée d'un autoportrait de Picabia de profil. [Site André Breton, 2019]
Transcription
Paris, le 6 août 1920.
Mon cher Breton,
J'ai reçu hier votre carte. J'allais vous écrire. Vous savez que les conditions avantageuses que me proposait Grasset me faisaient seules accepter sa firme. N'ayant pu m'entendre avec lui au sujet des modifications qu'il aurait voulu me voir apporter à mon livre, je n'avais plus qu'un désir, celui de voir paraître ce livre, tel que je l'ai écrit, au Sans Pareil ; je l'ai donc porté à Hilsum et lui ai proposé d'éditer J.-C. R. dans les mêmes conditions que l'Unique eunuque. Il n'a pas paru extrêmement enthousiasmé, tout en acceptant pour sa part, mais se réservant de consulter ses associées, ce qui m'a semblé d'ailleurs assez naturel. Deux jours après, je suis retourné au S.P. pour terminer cette petite affaire et j'avoue avoir été plutôt étonné lorsque Hilsum m'a déclaré que si je voulais être édité au S.P. – à mes frais, remarquez ! – il faudrait changer plusieurs passages et le titre de ce livre et ce en raison de ménagements à observer envers une marraine riche et cléricale de ces Demoiselles !
Mon livre n'est ni anticlérical, ni antimilitariste, ni anti quoi que e soit mais, le serait-il, que vraiment, cette pruderie soudaine chez des gens qui ont vendu 391, Cannibale et DADA est au moins extraordinaire. Excusez, mon cher Breton cette lettre assommante, mais indispensable.
Bien cordialement à vous.
votre Francis Picabia.
P.S. J'ai lu les articles de la N.R.F. sur DADA. C'est une bonne publicité pour le « mouvement ».
Je suis en pourparler d'un autre côté pour J.-C. R.
[En surimpression sur la partie inférieure de cette lettre, un autoportrait de Picabia à la plume : de sa bouche sort une « bulle », comme dans les bandes dessinées circonscrivant le texte ci-après :]
Les duvets Rhazéossi. Je suis en train de travailler à un grand tableau qui s'appelle « Fougère royale ».
Bibliography
Sanouillet, Michel, Dada à Paris, 1980, C.N.R.S éditions, Appendice, pièce n°122.
Place of origin
Place of destination
See also
1 Work
False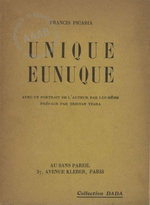 Click to order the image
Poésie de Francis Picabia publiée en 1920 Au Sans Pareil à Paris.
Trois images, une notice descriptive, un lien.