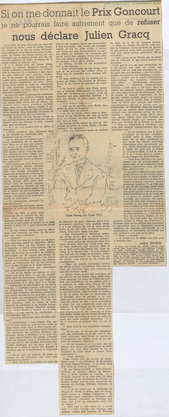 Si on me donnait le prix Goncourt...
Les Nouvelles littéraires, 29 novembre 1951
Author
Author André BourinPeople cited Edgar Allan Poe, Arthur Rimbaud, Henri Beyle, dit Stendhal, Jules Verne, Alfred de Vigny, Richard Wagner, André Breton, Louis Poirier, dit Julien Gracq, Ernst JüngerIllustrated by Roger Wild
Description
Entretien d'André Bourin avec Julien Gracq dans Les Nouvelles littéraires du 29 novembre 1951.
Coupure de presse découpée et datée par Breton concernant Julien Gracq conservée dans l'exemplaire, Le Rivage des Syrtes. [catalogue de la vente, 2003]
See also
1 Work
False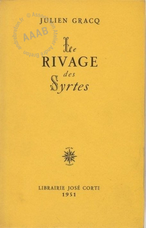 Click to order the image
-
Louis Poirier, dit Julien Gracq
Récit romanesque publié à Paris, chez José Corti, en 1951.
Trois images, une notice descriptive, un lien, des œuvres associées.