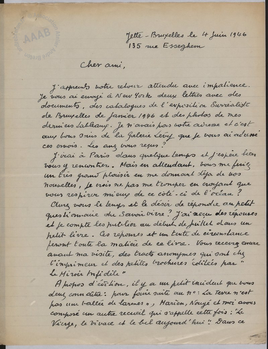 Description
Lettre de René Magritte à André Breton, adressée de Bruxelles au 42 rue Fontaine le 4 juin 1946.
Une lettre autographe signée de René Magritte adressée à André Breton, datée de Bruxelles le 4 Juin 1946 (deux pages), relative au questionnaire du savoir vivre, lequel est joint. [catalogue de la vente, 2003]
En 2005, le site Atelier André Breton a constitué un dossier des « Lettres reçues au retour en France », dans lequel cette lettre a été insérée.
La lettre, accompagnée d'un questionnaire et de tracts, était insérée par Breton dans le livre de Paul Nougé intitulé René Magritte, les images défendues. [Site André Breton, 2020.]
Place of origin
Place of destination
See also
3 Works
False
-

Tracts envoyés par René Magritte à André Breton en 1946.
Huit images, une notice descriptive, deux œuvres associées.
False
False
Ouvrage de Paul Nougé consacré à René Magritte, paru en 1943 chez les auteurs associés à Bruxelles.
10 images, une notices descriptive, un lien.