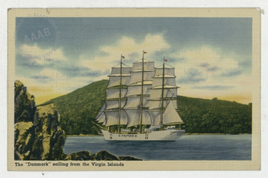 Description
Carte postale de Saint-John Perse adressée à André Breton, datée de Washington, le 18 mars 1951.
Carte postale illustrée : 
The Denmark sailing from the Virgin Islands. 
Adressée depuis Saint-John Island - Virgin Islands.  
Transcription
18 mars 1951
Affectueuse pensée.
Vous écrirai à mon retour aux É.-U. Je ne fais, depuis quelque temps, qu'errer sur mer ou d'île en île, sans papier.
Bien sincèrement à vous
Alexis Léger
Bibliography
Henri Béhar (éd.), « Surréaliste à distance », 
Europe
, nov.-déc. 1995, n° 799-800, pp. 59-84.
Place of origin
Place of destination