Description
Lettre d'André Breton à Saint-John Perse, le 3 juillet 1942, sans adresse, de New York.
Lettre manuscrite autographe sur papier à en-tête VVV - A magazine of Art and Discovery - To create and to change to become.
Les poèmes de Saint-John Perse Éloges et Exil sont cités dans la lettre, tout comme la revue VVV que dirige André Breton. [site André Breton, 2019]
Transcription
New York 3 juillet 1942
Très cher Monsieur,
le tenant de vous je n'ai pu me résoudre à placer cet exemplaire de Poetry parmi d'autres magazines ou même en bien meilleure place depuis que j'ai si peu de livres parmi ceux qui ne pouvaient m'abandonner, Bertrand, Rimbaud, Cros ou Apollinaire. Il demeure dans son enveloppe sur ma table pour que je le découvre sous une des plus belles écritures dans lesquelles j'ai pu rêver de voir se composer les lettre de mon nom. J'ai gardé de la jeunesse ce sens des choses si rares qu'elles transgressent leur catégorie apparente pour se fondre dans celle des talismans. Durant l'autre guerre un de mes plus obsédants désirs ne fut-il pas d'obtenir de mon plus grand ami d'alors et de toujours, Jacques Vaché, qu'il transposât, dans une des mystérieuses aquarelles dont il avait le secret, certains des plus hauts et des plus troublants accents d'Éloges dont une copie manuscrite ne me quittait pas - jusque dans les boues de la Côte du Poivre. Vous savez sûrement que ce qui a pu être situé ainsi l'a été une fois pour toutes, demeure tout à fait inaltérable. Mais si Exil m'atteint en 1942, c'est chargé de bien d'autres émotions encore, du parfum des Antilles où je me trouvais pour la première fois il y a un an et plus encore de la nostalgie de ce beau langage - le seul, celui qui tend uniquement vers le beau - dont on est ici entièrement sevré.
Je vous adresse cette semaine même le premier numéro de VVV, dans le grand espoir que vous consentirez à "ouvrir" le suivant d'un de vos poèmes.
J'écoute souvent me parler de vous Denis de Rougemont qui me laisse croire que je pourrai vous rencontrer quelque jour avec lui. Je garde quelque crainte superstitieuse à l'idée d'user de votre temps ; puisse cependant l'exil à ce seul égard m'être propice.Comme je suis depuis trois mois "announcer" à la B.B.C., en remplissant le questionnaire d'usage qui doit permettre mon entrée dans le "Civil Service" je me suis permis de donner votre nom en référence.
Je vous prie d'excuser cette grande liberté mais comment ne me flatterais-je pas de l'espoir de votre estime et même de votre sympathie.
Croyez, je vous prie, à mes sentiments d'admiration et d'affection profonds.
André Breton
Bibliography
Henri Béhar (éd.), « Surréaliste à distance », Europe, nov.-déc. 1995, n° 799-800, pp. 59-84.
Place of origin
See also
2 Works
False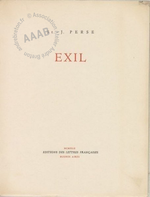 Click to order the image
False
-

Collection complète de cette revue sans périodicité dirigée par André Breton, David Hare, Marcel Duchamp et Max Ernst.
21 images à venir, une longue notice descriptive, une exposition, une bibliographie.