Description
Huile sur toile de Wolgang Paalen. 
Ce tableau est mentionné dans le catalogue de l'exposition surréaliste La peinture surréaliste en Europe (1953) comme provenant de la collection André Breton. 
Deux tableaux de la même série sont exposés en 1940 à New York à la galerie Julien Levy, lors de la première exposition Paalen aux États-Unis.
La notice « Wolfgang Paalen » de l'Encyclopedia universalis date ce tableau de 1937. [site André Breton, 2019-2021]
Exhibition places
See also
1 Work
False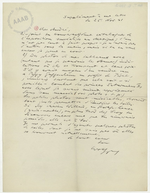 Click to order the image
-

Lettre de Wolgang Paalen à André Breton datée du 25 novembre 1941.
Une image, une notice descriptive, une bibliothèque