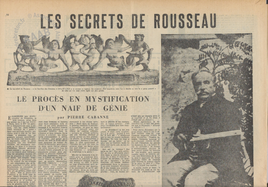 Description
Série d'articles réunis dans un dossier de journal Arts, daté par Breton de la semaine du 15 février 1961.
Pages du journal Arts consacrées à Henri Rousseau, titrées et insérées par André Breton dans l'exemplaire du livre de Lo Duca, Henri Rousseau dit le douanier. [catalogue de la vente, 2003]
Ce dossier intitulé « Les Secrets de Rousseau » se compose de quatre articles et de deux encadrés.
Les articles sont respectivement intitulés et signés :
- « Le Procès en mystification d'un naïf de génie », par Pierre Cabanne
- « Les Sources de Rousseau révélées », par Yann Le Pichon
- « Un classique déguisé en primitif », par Raymond Charmet
- « Depuis 50 ans la naïveté se vend bien », par Michel Ragon
Les encadrés sont intitulés :
- « La Cote du Douanier »
- « 34 dates pour une vie »
Tous ces articles et encadrés commentent l'exposition que présente la galerie Charpentier sous le titre Henri Rousseau, dit « le Douanier », exposition de son cinquantenaire. [site André Breton, 2019]
Exhibition place
See also
1 Work
False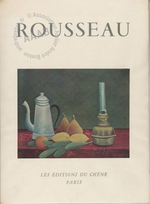 Click to order the image
Catalogue monographique publié en 1951 aux éditions du Chêne, à Paris.
Deux images, une notice descriptive, un lien.