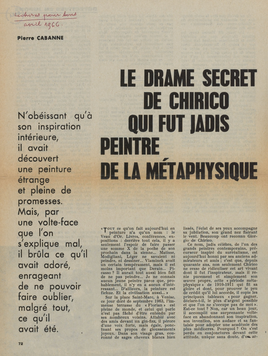 Description
Coupure de presse d'un article de Pierre Cabanne paru dans Lectures pour tous en avril 1966.
Coupures de presse datées par André Breton jointes à l'exemplaire The early Chirico. [catalogue de la vente]
L'article concerne l'artiste Chirico et son oeuvre au cours de sa vie. [site André Breton 2019]
See also
3 Works
False
Livre d'art publié par Dodd, Mead and Co à New York en 1941.
Trois images, une notice descriptive, un lien.
False
Photgraphie datant de 1914 d'un tableau de Chirico par Soichi Sunami.
Deux images, une notice descriptive.
False
Carton d'invitation pour l'exposition Giorgio de Chirico organisée à la galerie S. Stefano - S. Marco du 28 août au 10 septembre [1937].
Quatre images, une notice descriptive à completer.