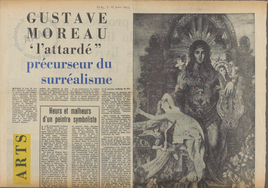 Gustave Moreau « l'attardé », précurseur du surréalisme
Arts, daté du 7 au 13 juin 1961
Author
Authors Raymond Charmet, Georges Bataille, André BretonPeople cited Charles Baudelaire, Burne-Jones, Carpocrate, Théodore Chassériau, Gustave Courbet, Thomas Couture, Edgar Degas, Eugène Delacroix, Gustave Doré, Fantin-Latour, Ragnar von Holten, Joris-Karl Huysmans, Jean-Dominique Ingres, Francis Jourdain, Stéphane Mallarmé, André Malraux, Albert Marquet, Gustave Moreau, Edgar Allan Poe, Auguste Renoir, Donatien Alphonse François de Sade, Paul Valéry, Alfred de Vigny, André Breton, Salvador Dalí, Max Ernst, Théophile Gautier, Édouard Manet, André Masson, Henri Matisse, Ary Renan, Georges Rouault
Description
Articles parus dans l'hedomadaire Arts daté du 7 juin 1961.
À l'occasion de l'exposition que le musée du Louvre consacre au peintre Gustave Moreau à paritr du 10 juin 1961, le journal Arts publie trois articles et un guide :
- Georges Bataille, « Gustave Moreau "l'attardé", précurseur du surréalisme »
- R. Charmet, « Heurs et malheurs d'un peintre symboliste »
- André Breton, « Carpocrate et Sade sont là dans l'angle »
- « Un guide pour Gustave Moreau »
Coupure de presse conservée dans le catalogue du musée Gustave-Moreau. [site Andre Breton 2019, catalogue de la vente 2003]
Bibliography
André Breton (Édition publiée sous la direction d'Étienne-Alain Hubert avec la collaboration de Philippe Bernier et Marie-Claire Dumas), « Gustave Moreau », Le Surréalisme et la Peinture, Œuvres complètes, tome IV, Écrits sur l'art et autres textes, Bibliothèque de la Pléiade, Paris, Gallimard, 2008, pages 785 à 789, notes p. 1371-1377.
Exhibition place
See also
1 Work
False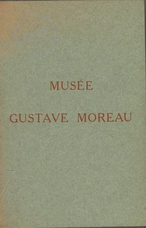 Click to order the image
-

Catalogue du musée Gustave-Moreau, publié en 1926 à Paris.
Deux images, une notice descriptive, un lien.