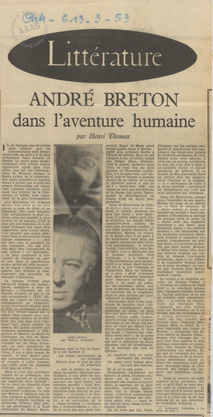 Littérature - André Breton dans l'aventure humaine
Arts du 6 au 13 mars 1953
Author
Author Henri ThomasPeople cited Jacques-Bénigne Bossuet, Tristan Corbière, Johann Peter Eckermann, Nicolas Flamel, Charles Fourier, André Gide, Johann Wolfgang von Goethe, Georg Wilhelm Friedrich Hegel, H. Leisegang, Paul Léautaud, Stéphane Mallarmé, Karl Marx, Arthur Rimbaud, Jean-Jacques Rousseau, Adam Smith, Paul Valéry, Antonin Artaud, André Breton, Albert Einstein, René Ghil, Francis Vielé-GriffinBy (photographer) Paul Facchetti
Description
Article d'Henri Thomas paru dans la rubrique Littérature du journal Arts de la semaine du 6 au 13 mars 1953.
Coupure de presse insérée par André Breton dans son exemplaire d'Anthologie de l'humour noir. [catalogue de la vente, 2003]
See also
1 Work
False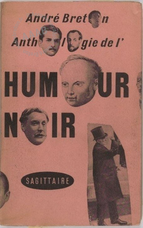 Click to order the image
Édition en partie originale de cet essai anthologique publié au Sagittaire en 1950.
Cinq images, une notice descriptive, un lien.