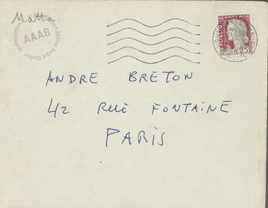 Description
Lettre de Matta à adressée à André Breton, datée du 2 avril 1964.
Les lettres de Matta, qui courent sur une trentaine d'années, sont parmi les plus belles de la collection de Breton : illustrées et rehaussées à la gouache ou au crayon, elles en montrent souvent autant qu'elles en disent. On trouvera ici diverses cartes dont certaines remontent à la guerre, et une lettre plus détaillée, datée de 1964, dans laquelle Matta se désolidarise du groupe dont l'attitude à l'égard de Max Ernst (coupable de se laisser aller à accepter les prix et autres marques de reconnaissance) lui semble exagérée. [site Atelier André Breton, 2005]
Lettre autographe manuscrite, datée par André Breton du 2 avril 1964.
Deux pages in-4°, lettre autographe datée 2 avril 1964 et signée de Roberto Matta à André Breton dans laquelle il lui fait part de son refus de signer un texte contre Max Ernst. Rehaus de couleurs de Matta dans le texte (enveloppe conservée). 
Lettre insérée par André Breton dans son exemplaire de Préliminaires sur Matta. [catalogue de la vente, 2003 ; site André Breton, 2019]
Place of origin
Place of destination
See also
1 Work
False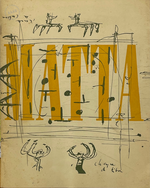 Click to order the image
Catalogue de l'exposition Matta chez René Drouin en 1947.
Une image, une notice descriptive, un lien, une exposition.