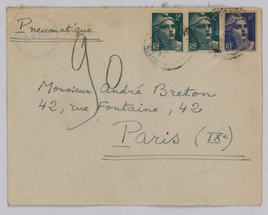 Description
Lettre d'Henri Parisot à André Breton, datée de Paris le 27 mai 1946.
Lettre encartée dans l'exemplaire des Lettres de Rodez conservé dans la bibliothèque d'André Breton avec des lettres autographes signées de Gaston Ferdière, d'Arthur Adamov et deux autres lettres d'Henri Parisot concernant Antonin Artaud.
Trois lettres autographes signées d'Henri Parisot datées respectivement de Paris le 22 mai 46 (une page à l'encre), 27 mai 1946 (une page à l'encre) et 1er juin 1946 (une pageà l'encre) adressées à André Breton.
Ces trois lettres sont accompagnées d'une lettre tapuscrite signée (une page) par l'administrateur provisoire E. Periquoi, notaire honoraire datée de Rodez le 2 mars 1946 et adressée à Henri Parisot.
On joint également un télégramme très critique adressé à Parisot par le docteur Ferdière, qui n'apprécie pas la publication d'une lettre d'Antonin Artaud dans la revue « Les Quatre Vents ». [catalogue de la vente, 2003]
Place of origin
Place of destination
See also
1 Work
False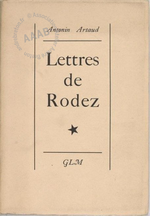 Click to order the image
Recueil de lettres d'Antonin Artaud paru aux éditions Guy Lévis Mano en 1946.
Trois images, une notice descriptive, un lien.