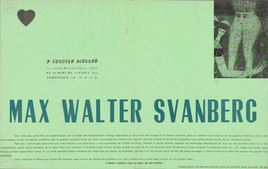 Description
Carton d'invitation pour l'exposition Max Walter Svanberg organisée à l'Étoile scellée du 18 mars au 10 avril 1955.
C'est une véritable anthologie en miettes qui nous est présentée ici, avec cette collection de préfaces et de cartons d'invitation qui couvre l'ensemble de l'après-guerre. On peut y lire des reproductions de la plupart des peintres aimés de Breton, ainsi que des textes signés de Péret, de quelques autres, et bien sûr du poète lui-même : à ce titre, on peut considérer que certaines de ces feuilles volantes sont des manières d'éditions originales de nombre de textes réunis plus tard dans Le Surréalisme et la peinture. On notera en particulier celui sur Molinier, plus nourri que les autres. [site Atelier André Breton, 2005]
Max Walter Svanberg, mars 1955, texte de Breton. [catalogue de la vente, 2003]
Catalogue
1. Portrait d'une étoile
2. Hommage à André Breton
3. La vision développe son visage
4. Don charitable de l'image imaginaire
5. Le jeu d'as de cœur
6. Portrait d'une étrangeté
7. Le cordon de perles de la conversation imaginative
8. La vision et la coupe de l'amour
9. Surdétermination poétique
10. La femme appelle
11. Événements autour d'une tête de soleil
12. La grossesse étrange de la rencontre étrange
13. L'invocation des possédés
14. Femme rencontrant l'animal de la métamorphose
15. Phases de papillon
16. Le baiser du bec bleu
17. Le baiser de perle
18. Le cœur de la nuit rit
19. Constellation
20. Deux sœurs parlent avec le coleil de l'animal bleu
21. Désir latent
22. Somnambuliquement
23. L'agression du présent
24. Imagination linéaire
25. Portrait imaginaire
26. Possession imaginaire
27. Portrait d'une étrangeté
Bibliography
- André Breton (Édition publiée sous la direction d'Étienne-Alain Hubert avec la collaboration de Philippe Bernier et Marie-Claire Dumas), Le Surréalisme et la Peinture, Œuvres complètes, tome IV, Écrits sur l'art et autres textes, Bibliothèque de la Pléiade, Paris, Gallimard, 2008, pages 640 à 643, ill., notes p. 1334.
Exhibition place
See also
1 Work
False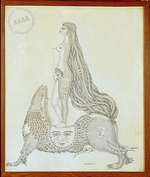 Click to order the image
Ink drawing, 1953, exhibited in 1955 at the Étoile scellée.
One image, one long descriptive notice, one bibliography.